As a recruiter who receives 100s of resumes a week, I can assure you that you want your resume to survive the "5 second scan".   This is the average amount of time a recruiter spends looking at each resume before  sorting it into one of two piles:  YES or NO.
How to ensure your resume is a YES
To survive and ensure you have the best odds of hitting the YES pile, follow these simple rules:
CHRONOLOGICAL VS FUNCTIONAL BASED – Always lead with your best foot forward.  Use a chronological resume starting with your most current position if you have several years of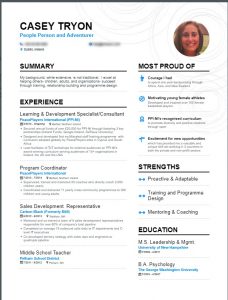 experience which relates directly to the position you are applying for.  Use a functional resume (eg. group Administrative Experience, Customer Service Experience, Kitchen Experience etc), if you have many applicable skills – but not as much recent or direct experience in that particular industry.  And always focus on your strengths and your achievements.
USE BULLET POINTS – Recruiters find it easier to read a quick introduction following by quick bullet points that expand on your experience and responsibilities.  Do not use full sentences, just quick impactful bullet points.  And always include key information such as your title, the company name & location and the dates you were employed there.  And keep it brief – no more than 5-8 bullets and stick to the most important ones!  For example:
OFFICE COORDINATOR
ABC Company, Whistler, BC, Jan'12–Aug'15
–   Answered and responded to all incoming phone calls and emails
–   Booked appointments, interviews and trips for the 10 managers on site
–   Sorted incoming mail, coordinated deliveries and managed filing
–   Attended meetings, took minutes and distributed as required
–   Dispatched drivers and coordinated  weekly schedules
–   Completed payroll using (   be specific!    ) program
USE THE SAME TENSE – When using bullets, ensure you use the same tense.  Notice above all of the verbs are in past tense.  This makes your resume much easier to read and allows you to demonstrate your excellent grammar.
LOTS OF WHITE SPACE – If your resume looks like a documentary or novel no one will take the time to read it.  Plus you will look full of yourself.  Ensure there is a lot of white space as this makes it easier on the eyes and more appealing.  And keep the font style and colour scheme clean, consistent and simple – don't get flashy.
USE IMPACTFUL VERBS to describe your duties and responsibilities such as:
Delivered
Facilitated
Achieved
Generated
Administered

Materialized
Spearheaded
Advised
Fostered
Advanced
Coordinated

Specializing in
Focused on
Recognized for
Exceeded
Created
CLICK HERE for more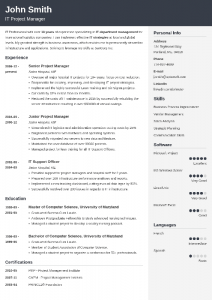 USE BOLD AND UNDERLINE for position titles and related pertinent education. This highlights exactly what the recruiter is looking for – quickly.
USE AN OBJECTIVE AND/OR SUMMARY STATEMENT to start off your resume.  This section can play the part of the cover letter in many cases and should quickly inform the recruiter
immediately of your strengths and/or who you are.   Use words as career oriented, professional, seasoned, skilled or experienced in.   And if you are going to be job-specific in this area, be sure to do it every time – do not send a resume that says you want to work in a spa when you apply to work for a construction firm.
SUMMARY OF QUALIFICATIONS
–  7 years of administrative and customer service experience.
–  Bachelor Degree in Business Communications.
–  Strong sales and marketing skills including managing social media.
–  Computer proficient in MS Office, Quickbooks and many other programs.
–  Positive and reliable team player happy to pitch in where needed

KEEP REFERENCES SEPARATE –  Before sharing your references' information, you should always let them know to expect a call so they are not caught off guard.  Include a note or bullet that "professional references are available upon request" on your resume.  Keep references in a separate document with the names, titles and contact details of your direct supervisors at your most recent roles.
EXPLAIN TIME GAPS – If you were travelling, or staying at home raising children, or self-employed add this to your resume. Don't make your potential employer do extra work trying to guess.
GET THE DETAILS RIGHT – Ensure you have no spelling errors – for some recruiters, this is an immediate fail.   Also, ensure that your resume, cover letter or email is addressed to the right person and company.
BE REACHABLE – And last but not least, make sure that you include a local working phone number with voicemail and an email address. Most employers will only try you once; make sure they can reach you or at the very least leave a message.