Full Time
Long Term
This position has been filled
Salary: $30/hr plus vacation pay and a generous benefits package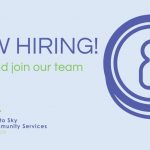 Website Sea to Sky Community Services
Together, we're building community.
The Sea to Sky Community Services Society has an opening for a full-time, year-round Community Outreach Manager.
The Community Outreach Manager is responsible for overseeing the general day-to-day operations of the Pemberton office and other facilities as well as an assigned portfolio of programs and services.  The Manager also plays a key role in building community partnerships to forward SSCS strategic goals.   This position offers a good salary and generous benefits package.
About Sea to Sky Community Services
Sea to Sky Community Services (SSCS) is one of the largest non-profit organizations in the Sea to Sky Corridor, operating for over 42 years. We provide more than 40 programs that are building healthier communities in pursuit of our vision, for all individuals in the Sea to Sky Corridor to have opportunities to grow, develop and lead meaningful lives.
"Together, we're building community. Sea to Sky Community Services Society (SSCS) provides over 40 social service programs, which strengthen individuals and build healthier communities throughout the Sea to Sky Corridor. SSCS would like to acknowledge that we are on the unceded traditional territories of the Coast Salish peoples, serving the Sea to Sky Corridor of Skwxwú7mesh (Squamish), Lil'wat, and Southern Stl'atl'imx Nations including Samahquam, Skatin, Xa'xtsa (Douglas), Tipella and N'Quatqua".  Read More HERE
About the Role, Benefits & Perks:
Year-round, long-term career position based in the Pemberton office.
30 hours per week
Flexible schedule requiring occasional evening and weekend hours
Requires occasional travel in the Sea to Sky Corridor
Competitive wage starting in the range of $30/hr plus vacation pay.
Generous benefits package  including MSP premium, extended health and dental, and group life and disability insurance.
The Perfect Candidate:
A degree in the social service, counselling or related field;
Two years of recent management experience in social services including direct supervisory experience;
Previous direct program delivery experience in the community social services sector and direct experience working with First Nation communities;
Or an equivalent combination of education, training and experience.
Strong oral, written and interpersonal communication skills including experience in report writing.
Strong practical experience in social service project and/or program management, community development, including planning and implementation.
Demonstrated ability to work positively with community groups and stakeholders to address key emerging social service issues.
Strong understanding of Indigenous culture, reconciliation and decolonization practices, as well as cultural safety in service delivery.
Proven leadership abilities, including strong supervisory, conflict resolution and team building skills.
Experience with budget development process, including cost accounting, and monitoring
Familiarity with accreditation process and quality assurance practices.
Attitude and values which are compatible with the Vision, Mission and Values of SSCS
Proficient using Microsoft Office (Word, Excel, Outlook) and data base experience.
Responsibilities Include:
Playing a key role in building community partnerships to forward SSCS strategic goals.
Ensuring that the goals and objectives of the programs and services are met in compliance with agency policies and procedures;
Maintaining CARF accreditation; contractual, legal
and financial obligations; licensing; and other requirements.
Provides leadership and direction to the employees under the portfolio of assigned programs.
Ensuring that programs and services are provided in alignment with the agency's Vision, Mission, Values and Strategic Directives.
Acting as a contributing member of the SSCS Management Team.
Promoting a positive, vibrant and healthy workplace culture.
How to Apply:
Our career matching and consulting services are confidential and FREE to job seekers – with no strings or commitments required.
We will forward all WPS applications directly to the employer for review and consideration.  Due to time constraints, only those candidates who have been selected for further consideration or an interview may be contacted.   If you would like an update on your application, please contact the employer.
We are your partners through the next step in your career.