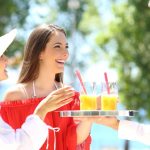 Website whistler_jobs Whistler Personnel
- Fun and flexible
Whistler Personnel has lots of shifts available for Bartenders, Servers and Junior Servers at banquets, wedding and events this summer!
If you have already applied with us, you know it's as easy as an e-mail to get in on these shifts. If you are new to Whistler Personnel, it's as quick as filling out an application with us one time and you are set for future work!
CURRENT WORK ASSIGNMENTS AVAILABLE:
DATES & TIME: Thursday – Sunday, various shift times available.
DUTIES INCLUDE: Assisting with the food and beverage service at events. Banquet and event settings.
QUALIFICATIONS: Serving It Right preferred but not necessary.
ATTIRE: Black dress pants (no black jeans), black belt, black socks, clean black closed shoes. Uniform top will be provided, wear black top underneath for comfort. Clean and professional appearance with hair tied back.
WAGES AND REWARDS:
Whistler Personnel also uses a progressive pay system that awards pay increases based on number of Successful Shifts completed. The more you work with us, the more you get paid per hour!
BASE WAGES:
Tier 1 = $18/hr to start plus 4% vacation pay
Tier 2 = $19/hr after 5 successful shifts plus 4% vacation pay
Tier 3 = $20/hr after 10 successful shifts plus 4% vacation pay
EARN AN EXTRA $4-$20/hr for skilled positions such as Line Cooks, Carpenters, Bookkeepers, First Aid Attendants and more.
Plus we offer lots of extra BONUSES:
PLUS EXTRA $2-$4/HR for Last Minute SUPERHERO BONUSES
PLUS EXTRA $2/HR HOLIDAY BONUS on long weekends & holidays
PLUS EXTRA $3/HR for SUPERCLEANERS with at least 3 months prior hotel housekeeping experience.
PLUS EXTRA $2/HR GRAVEYARD BONUS for night cleaners (shifts that start after 10:30pm)
PLUS ENJOY LOTS OF SUMMER REWARDS!
As an added incentive for you to take more shifts with us, we are paying an extra $2/hr SUPERHERO BONUS for every weekend cleaning shift all this month – plus a few others!
AND we are also going to be REWARDING the temp employee on our crew who successfully completes the most shifts for us between July1 and Sept30 with a FREE SEASONS PASS AT WB! ~ or $1000 cash if skiing isn't your thing!
PLUS we are going to be GIVING AWAY a 2nd SEASONS PASS or a $1000 CASH PRIZE to another lucky WPS employee in a draw on November 1st! Each shift you work for WPS between July1-Nov1 gets you 1 ballot to the draw, so the more you work, the better your chances of WINNING will be.
AND FINALLY, we are introducing REFERRAL REWARDS of $20 per new WPS TEMP EMPLOYEE that you refer to the program who works at least 10 shifts with us this summer. Please invite your friends, roommates, coworkers and neighbours to join our team. We need all of the help we can get!!
* Check it all out here: www.whistler-jobs.com/rewards/
CONTACT US ASAP

if you are interested!
email info@whistler-jobs.com and confirm the days you are available and your contact details.
ensure your resume and profile have been submitted to www.whistler-jobs.com/apply-for-work (you only have to do this once)
ensure we can reach you (keep your phone on!)
follow us on Facebook for updates: facebook.com/whistlerpersonnelsolutions
We will review all applications and contact candidates who have been selected for this assignments. If you would like an update on your application, please give us a call or drop us an email: 604 905 4194 ext1 or info@whistler-jobs.com
---
WHY SIGN UP FOR TEMP WORK?
Perhaps you're looking for supplemental income? Filling in time? Have one day, one week or one month to spare? Between seasonal work? Enjoy variety and flexibility? We can connect you with Whistler's top employers and provide work that suits your skills, lifestyle and schedule.
Whistler Personnel has regular temp job opportunities for administrators, housekeepers, servers and bartenders. It's a great way to pick up extra shifts during slower periods or days off. Submit your details to us including the type of work you want, the times and days you are available and the pay you require and we'll notify you each time something suitable comes up.
Our career matching and consulting services are confidential and FREE to candidates – with no strings or commitments required.