Full Time
Salary: Negotiable.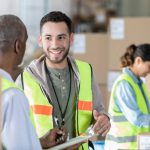 Website Whistler Personnel
- lots of perks and a great team!
A multi-channel retail brand that stands at the intersection of community, commerce, adventure sports, and the outdoor lifestyle is seeking a Warehouse Associate to join their team. Offering a competitive wage based on experience, long-term and year-round employment, plus a ski pass!
About the Role, Benefits & Perks:
Work schedule 8.00 to 4.00 Monday to Friday with some flexibility allowed for ski/bike time during
the week.
Casual work environment.
Competitive hourly wage based on the role and experience with the potential for increases based on performance.
A free winter seasons pass.
40 hours of Volunteer Paid Time Off annually.
Volunteer Charitable giving match.
Five days of paid sick leave annually.
Deep discounts on a new ski or snowboard setup each year.
Employee discounts across our vast assortment of brands and products.
Team ride days and events.
Opportunities to get hands-on experience with new gear.
The Perfect Candidate:
Sporting goods, retail, or warehouse experience a plus
A clean driver's record.
Must be able to read, count accurately, do simple math, and write legibly.
Familiarity with computer systems and computerized scanning equipment is a plus.
Capable of sitting, standing, and walking for extended periods (at least two hours straight, for times in an 8 hour day).
Work well in a team atmosphere and be self-motivated to deliver quality work.
Must be able to twist, stoop, squat, reach above shoulder level and crouch on a frequent basis.
Strong attention to detail and maintain proper protocols and processes
Honest communicator who welcomes the exchange of direct feedback
Reliable and able to work full day shifts, weekdays and weekends.
Must be able to user proper techniques to lift 50 pounds. Emphasis on safety is extremely important.
Comfortable with a fast-paced environment and meeting deadlines that can sometimes have tight scheduling requirements.
Embodies, honors, and lives our core values: The Great 8.
Responsibilities Include:
Receive product from vendors accurately and promptly against purchase orders with support from DC team.
Review sales data to determine store replenishment needs and ensure max inventory capacities are met for each location.
Deliver product to store locations daily (frequency dependent upon time of season).
Execute inventory transfers for all outbound and inbound shipments to and from our retail locations.
Assist in product placement in-store in collaboration with retail team.
Organize stocks and maintain inventory.
Maintain equipment in a neat, clean, and orderly fashion.
Operate equipment safely and efficiently.
Communicate with other team members and team leads in a courteous, respectful, and professional manner.
Attend shift and department meetings as scheduled
Report procedural or safety issues to Supervisor, or designated staff as they are identified.
Coordinate and execute recycling of cardboard and shipping materials
Maintain an orderly work area and participate in housekeeping tasks as requested by Leadership.
Other duties as assigned.
How To Apply:
Our career matching and consulting services are confidential and FREE to job seekers – with no strings or commitments required.
Create a Profile and upload your resume here (you only have to do this once): www.whistler-jobs.com/apply
OR If you have already created a profile with us, please send your resume directly to the team at evo: jobscanada@evo.com
Tip for Out-of-Town Applicants: If you are currently living outside the area, be sure to tell us about your plans to relocate including if you've already secured or researched local accommodation and your planned arrival date.
We will review all applications and contact candidates who have been selected for further consideration or an interview. Due to time constraints, we may not be able to contact all applicants – but we will try! If you would like an update on your application, please email us at talent@whistler-jobs.com or call us at 604 905 4194 ext 2.
We are your partners through the next step in your career.