Full Time
Long Term
Salary: $45,000 to $50,000 per year based on experience.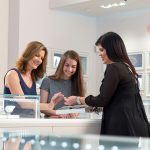 Website Whistler_Jobs Whistler Personnel
- Ski or Recreation Pass and Quarterly Jewelry Incentives!
One of Whistler's top retailers providing distinctive and beautiful jewelry products is looking for a strong leader to learn and take over the Store Manager position.  Ideally suited for someone with a strong passion for retail who can successfully coach and lead a close-knit team and provide exceptional customer service to store clientele.  Extended health and dental, ski Pass/recreation pass and yearly bonus based on performance and a generous salary.
About the Role, Perks and Benefits: 
Opportunity for a strong leader with a passion for people and sales who has relevant retail experience.
Wage starting in the range of $45,000 to $50,000 per year based on experience with increases based on performance.
Benefits / perks include: Extended health and dental (optional). Ski Pass/Recreation Pass.
Yearly bonus based on performance.
Full training provided (training will be offsite in either Guildford or Coquitlam).
Quarterly Jewelry Incentive available.
The Perfect Candidate:
Strong experience in customer service preferably in a retail environment.
Demonstrated leadership skills with the ability to lead by example, motivate and engage employees, and people-oriented.
Human Resource Management experience (recruiting, hiring, training, coaching, counseling, and discipline of store personnel).
Sales driven with a focus on driving business and sales.
Coach and lead in line with company policies.
Motivated, self-starter with excellent organizational skills.
Sales-oriented with a desire to succeed in a management position.
Experience with Planograms, merchandising and implementing creative displays to drive sales.
Maintain a strong and genuine customer focused.
Detail-oriented with some experience in daily operations.
Responsibilities include:
Recruiting, Hiring and Retention of quality Sales Lead and Staff.
Demonstrates desired behaviors for staff including driving sales, handling difficult and/or complicated sales, cash management, inventory, and follow-up with customers.
Provides strong leadership presence and control in store, while ensuring that all customers receive good service and quality merchandise.
Utilizes company tools to diagnose opportunities and develops action plans to improve Performance.
Regularly communicates with head office to discuss strengths, opportunities, and trends in business.
Identifies training needs and provides ongoing training opportunities to the team as needed.
Leverages individual staff strengths and creates developmental plans to prepare all level positions for future growth within the organization.
Assists in hiring to the needs of the business, actively recruiting to ensure open positions are filled quickly.
Delivers consistent, in the moment, feedback and coaching.
Ensures company standards are met for store and associate appearance at all times.
Prioritizes, plans, and adjusts schedules as necessary to maximize sales.
Plans, coordinates, and executes all Merchandise Calendar direction, campaigns, and sales promotions in a timely manner.
Ensures all pricing, signage, and displays are correct at all times.
Enforces all company policies and procedures, including health, safety, and security.
How To Apply:  
Our career matching and consulting services are confidential and FREE to job seekers – with no strings or commitments required.
Create a Profile and upload your resume here (you only have to do this once):  www.whistler-jobs.com/apply
OR If you have already created a profile with us, please complete this simplified application: www.whistler-jobs.com/simple_app
Tip for Out-of-Town Applicants:  If you are currently living outside the area, be sure to tell us about your plans to relocate including if you've already secured or researched local accommodation and your planned arrival date.
We will review all applications and contact candidates who have been selected for further consideration or an interview. Due to time constraints, we may not be able to contact all applicants – but we will try!  If you would like an update on your application, please email us at talent@whistler-jobs.com or call us at 604 905 4194 ext 2.
We are your partners through the next step in your career.