Full Time
Long Term
Part Time
Seasonal
Temporary
Salary: Starting at $19-$21/hr with experience or $17-$18/hr for junior RAs plus lots of perks and benefits.
- Great travel perks & benefits!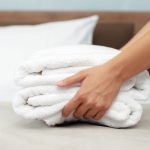 Website whistler_jobs Whistler Personnel
- Great travel perks & benefits!
Ranked one of Fortune magazine's 100 Best Companies to Work for every year since 1998, Four Seasons Resort in Whistler is hiring junior and senior Guestroom Attendants.
Great perks include employee housing, one free meal per working shift, and complimentary room nights at any Four Season Resort around the world! Also offering a flexible schedule and excellent starting wage. *No prior experience required!
About the Role, Perks and Benefits:
Full-time, or part-time with flexible scheduling options (usually 8am-4:30pm).
Seasonal and year-round position available.
No experience necessary – world class training will be provided.
Paid trial shifts are available so you can 'try before you apply'.
Competitive starting wages based on experience: experienced RAs start between $19-$21/hr, Junior RAs start between $17-$18/hr
Wage increases after 6 months and then again after 1 year.
Plus recreational allowance of $450 toward Spirit Ski/Bike Pass.
Extended health plan and RSP contributions after 3 months.
One free staff meal with each shift and staff discounts on F&B and Spa Services.
Benefits and perks also include leisure package for the winter season, complimentary room nights at Four Season Resorts worldwide.
Lots of additional training is available including management workshops and amazing career opportunities within the company.
Warm and welcoming team culture that rewards and celebrates successes (ask around!).
Affordable staff housing available from $525/month onsite or offsite and the 3rd month is FREE for workers who stay the entire summer.
The Perfect Candidate:
Previous experience is not required.
A positive, team centred attitude and willingness to pitch in and help out is all you need.
Good knowledge in English (written, spoken and reading) is beneficial.
Strong commitment to service.
Happy to consider out of town and out of country candidates with valid work visa (employment letters can be provided).
Responsibilities Include:
Cleaning, dusting, sanitizing and supplying all guest rooms.
Report any damage or repairs needed in assigned areas.
Offer friendly, helpful assistance to guests.
Perform other tasks or projects as assigned by hotel management and staff.
Opportunities to work in other departments if desired.
How to Apply or Sign Up for Trial Shifts:
Ensure we have your resume and profile on file (you only have to do this once): www.whistler-jobs.com/create-profile
OR If you have already created a profile with us, please complete this simplified application: www.whistler-jobs.com/simple_app
OR if you would like to give the role a 'try before you apply', Temp Trial shifts are also available (kinda like a paid interview). Email: info@whistler-jobs.com for more details.
Qualified applications received for this role will immediately be forwarded to the hiring team at Four Seasons Resort. Those chosen for interviews will be contacted directly.
**IMPORTANT** By applying for this role, you are agreeing to allow Whistler Personnel Solutions to represent you to our client. Please do us and them the courtesy of replying to any emails or calls that you receive promptly and professionally even if you are no longer interested in the role.
Tip for Out-of-Town Applicants: If you are currently living outside the area, be sure to tell us about your plans to relocate including if you've already secured or researched local accommodation and your planned arrival date.
If you would like an update on your application, please email us at talent@whistler-jobs.com or call us at 604 905 4194 ext 2.
We are your partners through the next step in your career.