Part Time
Seasonal
Student Friendly
Temp Gig
Up to $27/hr plus Bonuses, Vacation Pay + Rewards CAD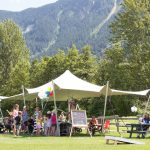 Event installation Crew are the foundation of every Sea-to-Sky event's success! Without you working temp shifts, these amazing events wouldn't happen, so get involved and sign-up to earn great wages on your own schedule! Earn up to $26/hour + Bonuses!
POSITIONS: Event Installation Crew, Event Coordinators & Event Team Leads
DATES: Daily shifts are available on an ongoing basis
DUTIES: Assist the outdoor team with temperature checks of facilities, tending to fire/saunas, assist guests onsite, stocking towels & robes, washroom & locker room cleaning. There is lifting /bending etc. involved, and pitching in where else is required.
HOURS: Morning, evening & overnight shifts for 6-8 hours
LOCATION: Whistler
SKILLS/QUALIFICATIONS: No experience required
WAGE: $22-$27/hr + 4% vacation pay

Whistler Personnel uses a progressive pay system that awards pay increases based on the number of Successful Shifts completed. The more you work with us, the more you get paid per hour

, and many shifts include extra bonuses per hour, as well.  Ask us for more details!
Event Installation/Takedown Crew
PROBY (Tier 1) = $22/hr to start
REGULAR (Tier 2) = $24/hr after 10 successful shifts
HERO (Tier 3) = $26/hr after 20 successful shifts
Event Coordinators/Team Leads  (Experience required):
PROBY (Tier 1) = $23/hr to start
REGULAR (Tier 2) = $25/hr after 10 successful shifts
HERO (Tier 3) = $27/hr after 20 successful shifts
Successful Shifts = be on time, work hard and make our clients happy. These can be in any temp position with Whistler Personnel.
---
Come Live, Work and Play in Whistler with us!
SIGNING UP IS  SO EASY!
If you want more information, or if you're ready to sign up, you can get in contact in one of three ways;
Submit your resume and/or qualification details by clicking the APPLY FOR JOB button (you only need to do this once).
Email info@whistler-jobs.com with any questions.
Or call 604 905 4194 ext 1 to speak with us directly!
Tip for Out-of-Town Applicants:  If you are currently living outside the area, be sure to tell us about your plans to relocate including if you've already secured or researched local accommodation and your planned arrival date.  Click here for some resources.
And don't forget to follow us on Facebook for updates! www.facebook.com/whistlerpersonnelsolutions/ 
---
WHY SIGN UP FOR TEMP WORK?
Are you looking for supplemental income, or have extra time to spare between other work? If you enjoy the flexibility to call the shots on when and where you work, temp work is for you!
Whistler Personnel has regular temp job opportunities for labourers, housekeepers, cleaners, servers, bartenders, landscapers, event installers and hosts, kitchen workers, administrators, construction workers and much more. A quick call will have you set up with our mobile app that allows you to see and sign up for any shift you like. It's that easy!
We can provide work that suits your skills, lifestyle and schedule. It's all about what's right for YOU, so get in contact and let's find out exactly what that is. Our career matching and consulting services are confidential and 100% FREE to candidates – with no strings or commitments required.
REWARDS – REWARDS – REWARDS!

More than ever, we are rewarding our team for helping out by running Seasonal Prize Draws, Housing Rebates, Superhero Bonuses, Signing Bonuses and Referral Rewards!!
CLICK HERE for more info: www.whistler-jobs.com/rewards/
Ask your question here or contact us anytime!