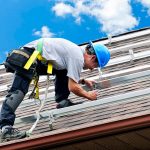 Website Whistler Personnel
- Excellent company with competitive pay
Join the team at a local and well-established roofing company, who take pride in providing their clients exceptional customer service and high-quality workmanship! Currently looking for multiple Skilled Roofers & Installers. This position is well suited to someone who is dependable and hardworking with strong industry experience. Offering steady, year-round employment with a competitive wage, extended benefits, and some flexibility for work/life balance. Out of town candidates can apply as there is access to housing for the right candidate.
About the Role:
Full-time, year-round. Weekday schedule.
Competitive wage ranging from $35 to $45 per hour for experienced Roofers. Junior positions are also available.
Extended health benefits for full-time employees.
Team-oriented atmosphere that embraces opportunity to continuously challenge themselves to learn the latest skills and techniques.
"Safety First" culture with an in-house training program that provides opportunities for growth.
Career development opportunities for employees who show interest and aptitude.
Potential housing for experienced and motivated out of town candidates.
Sponsorship may be considered for anyone that needs help obtaining a work permit and wants to relocate to Canada.
The Perfect Candidate:
Entry level to experienced Roofers/Installers are welcome to apply.
Certification is an asset.
Self-motivated, team player with a good attitude who are pursuing roofing as a career choice.
Excellent attention to detail.
Strong communication skills and the ability to take and give directions.
Work cooperatively with a team to get the job done
Solid safety awareness.
Comfortable working at heights and working outdoors in most weather.
Responsibilities Include:
Repairs, replaces, and installs roofs on residential homes or commercial buildings.
Use a variety of materials such a metal, aluminum, wood, shingles, tiles, slate, and steel. Measure, cut and install materials.
Perform roof pre-inspections.
Communication professionally with other tradespersons on site.
Site clean-up.
How to Apply:
Our career matching and consulting services are confidential and FREE to job seekers – with no strings or commitments required.
Ensure we have your resume and profile on file (you only have to do this once): www.whistler-jobs.com/create-profile
If you have already created a profile with us, please email talent@whistler-jobs.com to express your interest in this position.
Qualified applications received for this role will immediately be forwarded to the hiring team. Those chosen for interviews will be contacted directly.
**IMPORTANT** By applying for this role, you are agreeing to allow Whistler Professional Solutions to represent you to our client. Please do us and them the courtesy of replying to any emails or calls that you receive promptly and professionally even if you are no longer interested in the role.