INTRODUCING OUR
NEW TIMECARD PROCESS FOR 2023!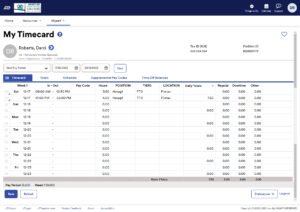 Starting immediately we are asking all of our current and new employees to start using our NEW Timecards in Workforce Now by ADP to record your hours.
It will take you a few minutes to setup your login and learn how to use them so please set aside a bit of time for this.  Here's how to begin:
LOGIN to Workforce Now by ADP website or APD App
WATCH our 10min tutorial video to learn How to Complete Your Timecard
ENTER YOUR HOURS before Friday to ensure that we can pay you on time.
If you have not received a registration email from ADP or have difficulties logging into Workforce Now, please email us right away here:  info@whistler-jobs.com
THANKS IN ADVANCE for taking the time to learn something new – and for your patience while we iron out any kinks that you encounter in this new process.
As always, we are here to help 7 days a week!
Call: 604 905 4194 ext 1
Text: 604 398 4977
info@whistler-jobs.com
Download the ADP App Here:
---
PS: OUR OLD TIMESHEET IS STILL HERE AS BACKUP
If you are unable to access your account in Workforce Now by ADP you can use the time sheet below to record your hours and we will enter them for you. We will also resend you an ADP Registration email and the video link so that you can use the new system next time!!