Full Time
Long Term
This position has been filled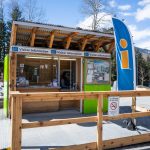 Website whistler_jobs Whistler Personnel
- 3 day weekend
Tourism Whistler is looking for a Visitor Centre/Kiosk Agent to join their great team!  Ideally suited for someone with outstanding customer service skills who prides themselves on providing the highest standard of service with strong knowledge of Whistler's community and activities. The Agent provides in-resort guests with extraordinary customer service and all the information they need to build and book their dream vacation in Whistler.  This position offers a competitive salary with a flexible schedule offering part-time or full-time hours with lots of great perks including a wellness spending account.  Full time employees are offered extended health benefits and a flexible schedule option allowing for a 3-day weekend!
About the Role:
Full-time or part-time hours available, year-round.
Competitive wage based on experience plus commission on sales.
Wellness spending account.
Group benefits coverage.
Flexible schedule working 4 x 10 hour shifts per week (or alternative if preferred).
Other fun perks and the opportunity to work with a great team.
Plenty of room for growth within the company.
Preference will be given to Whistler locals who have a strong knowledge of the community and activities available for tourists.
The Perfect Candidate:
Excellent knowledge of Whistler, the Sea to Sky Corridor and British Columbia.
Commitment to customer service.
Demonstrated and effective cash handling and selling techniques.
Excellent computer skills (Microsoft Office and POS system, knowledge of Inntopia and Payd an asset).
Strong communication skills, verbal and written, through the phone, online and in person.
Strong attention to detail and effective time management skills.
Team player who can also work independently.
Skilled problem solving and conflict resolution abilities.
Being multilingual is an asset.
Responsibilities include:
Act as a Tourism Whistler ambassador, living our purpose and vision with passion, energy, achievement and respect.
Greet in-resort guests and local residents with exemplary service, providing current and relevant information as requested.
Serve industry partners by promoting tourism products for Whistler and educating guests in person, by phone and via email.
Answer any and all questions guests may have and help address concerns.
Ensure brochure racks are maintained and display/provide current industry partner information.
Responsible for product sales, cash handling and inventory control.
Answer guest question on the broader tourism opportunities offered in the Sea to Sky corridor and providing of British Columbia.
Greet and educate in-resort guests on all accommodation, activity and transportation options Whistler has to offer.
Provide quotes and fulfill accommodation, activity and transportation sales for inquiring guests (through online sales system).
Communicate effectively with clients, vendors and colleagues, providing detailed communication and notes in each customer file to ease booking and follow up procedures.
Meet or exceed individual and team sales goals on a daily, weekly and monthly basis.
Follow all standard operating procedures as outlined in the Tourism Whistler Employee Handbook and the Visitor Services Manual.
Other duties as assigned by the management team.
How to Apply:
Ensure we have your resume and profile on file (you only have to do this once): whistler-jobs.com/create-profile
If you have already submitted your Profile to us, you can email talent@whistler-jobs.com expressing interest in this position.
Please do not contact Tourism Whistler directly; qualified applications received for this role will immediately be forwarded to the hiring team at Whistler Personnel.  Those chosen for interviews will be contacted directly.
**IMPORTANT** By applying for this role, you are agreeing to allow Whistler Professional Solutions to represent you to our client.  Please do us and them the courtesy of replying to any emails or calls that you receive promptly and professionally even if you are no longer interested in the role.