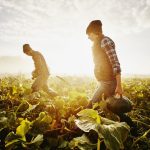 Website whistler_jobs Whistler Personnel
- Good wage, flexible schedule and outdoor work
COVID-19 UPDATE:  We are still accepting applications for Temporary Positions.   We are taking precautions to ensure that our team and those around them stay healthy.  Read more here: www.whistler-jobs.com/work-safety-plan

**REMINDER: CERB recipients are permitted to earn up to an extra $1000 per month on top of their benefits.
We have a handful of shifts available for farm hands in the Pemberton area this week and expect to have more to come. This is a great way to earn some extra funds and enjoy an honest day's, hard word in a beautiful Pemberton meadow.  $18-$20/hr plus vac pay.

WORK ASSIGNMENT AVAILABLE:  PEMBERTON
DATE:  Thursday & Friday May 20 & 21 with more to come
TIME:   Start on location at 8:00am.  Shifts are expected to be 6-8 hours per day.
DUTIES:  Planting and harvesting produce – garlic, broccoli, cauliflower, bok choy, tomatoes, snap peas etc – on an organic farm in Pemberton.  Involves being outdoors and on your feet all day.   Some heavy lifting and general farm labouring may be required.
SKILLS / QUALIFICATIONS REQUIRED:  No prior experience necessary.  Enjoys working outdoors and getting their hands dirty.   Physically fit and able to lift heavy loads. Friendly, hard-working and happy to pitch in where needed.
ATTIRE:  Outdoor shifts so dress accordingly – wear sun protection and waterproof layers.  Bring water bottle, lunch  and snacks. Rubber boots and gardening gloves recommended – and bring a clean, dry pair of shoes as well.  Long hair tied back.
WAGES:
Whistler Personnel uses a progressive pay system that awards pay increases based on number of Successful Shifts completed. The more you work with us, the more you get paid per hour!
Tier 1 = $18/hr to start plus 4% vacation pay
Tier 2 = $19/hr after 5 Successful Shifts plus 4% vacation pay
Tier 3 = $20/hr after 10 Successful Shifts plus 4% vacation pay
Successful Shifts = be on time, work hard and make our clients happy!
All previous shifts worked with WPS count towards a higher Tier for all future shifts.  Shifts can be in any temp position with Whistler Personnel (and we have LOTS available!)
IT'S EASY TO ENROLL:
Submit your resume and/or qualification details, see  APPLY FOR JOB link below (you only need to do this once)
Email info@whistler-jobs.com with your desired shifts and start times or call 604 905 4194 ext 1 to book your dates.
Ensure we can reach you (check your email & keep your phone on)
follow us on Facebook for updates:  www.facebook.com/whistlerpersonnelsolutions
We will review all applications and contact candidates who have been selected for each assignment.   Due to time constraints, we may be able to contact all applicants (but we will try!).  If you would like an update on your application, please give us a call or drop us an email:  604 905 4194 ext1  or info@whistler-jobs.com
---
WHY SIGNUP FOR TEMP WORK?
Perhaps you're looking for supplemental income? Filling in time? Have one day, one week or one month to spare? Between seasonal work? Enjoy variety and flexibility? We can connect you with Whistler's top employers and provide work that suits your skills, lifestyle and schedule.
Whistler Personnel has regular temp job opportunities for administrators, housekeepers, servers and bartenders.   It's a great way to pick up extra shifts during slower periods or days off.    Submit your details to us including the type of work you want, the times and days you are available and the pay you require and we'll notify you each time something suitable comes up.
Our career matching and consulting services are confidential and FREE to candidates – with no strings or commitments required.