Full Time
This position has been filled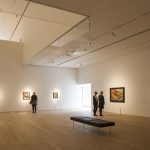 Website whistler_jobs Audain Art Museum
- Growth potential with an amazing organization.
The beautiful, world-class Audain Art Museum are looking for a Registration & Engagement Administrator to join their close-knit family. In this position, you will deal with all aspects of the Museum's permanent art collection, including registration, care, maintenance, security, and exhibition. Ideally seeking someone with experience in museum/art who is administratively strong, organized and passionate about the industry. This is a permanent, full-time position with a competitive wage, extended benefits and a family membership to the museum.
About the Role:
Warm and supportive family environment committed to supporting and celebrating the arts.
Full-time, year-round with growth potential.
Competitive wage based on experience.
Benefits/Perks include family membership at the Museum, extended health benefits, 3 weeks (6%) paid vacation, training and course allowance and access to a Spirit Pass.
The Perfect Candidate:
One to two years' experience working in a museum, art gallery or cultural setting desirable.
A university degree in Art History, Education, Museum Studies, History, Visual Arts or a related discipline is highly desirable.
A team player that is helpful and eager to help where needed.
Interest in art and/or museums is greatly beneficial.
Able to establish and maintain effective working relationships with team members.
Knowledge of the principles, methods and techniques applicable to the display of objects.
Ability to conduct research and to prepare reports, didactics, and related informational material.
Computer savvy with experience in accurate record-keeping and strong knowledge of MS Office Suite.
Understands how to deal courteously with the public.
Observant and pays close attention to details (a natural detective).
Ability to implement and administer a variety of procedures related to the accession, storage, handling, and display of art museum objects.
Criminal Records Check will be required by the successful candidate.
Responsibilities include:
Organizes small exhibition projects, such as a short-term temporary exhibition
Establishes and maintains effective working relationships with a variety of internal and external contacts as directed and attends meetings when required.
Answers general inquiries regarding the AAM's collection.
Catalog and maintain artwork credits and descriptions for ongoing public and promotional use, ensuring the curatorial integrity of the collection is preserved.
Conduct research, as required, to enhance engagement opportunities, assist with training and providing information to Docents.
Assist, as required, with the delivery of collection tours to the public.
Assist in the delivery of engagement programs for the Museum.
Operation of Point of Sale system to sell admission, membership, and shop merchandise.
Travel may be required.
Other duties as required.
To Apply:
Please submit your resume including a cover letter describing your qualifications to Brianna Beacom, Associate Director (Operations), prior to 5:00pm on Monday, June 29, 2020.
Brianna Beacom, Associate Director (Operations), bbeacom@audainartmuseum.com
Subject line: Registration & Engagement Administrator Application
Only those selected for an interview will be contacted.