Temporary
This position has been filled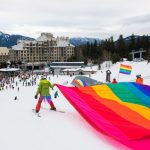 Website whistlerpride Whistler Pride
- A Celebration of Diversity!
Join us at one of Whistler's most exciting and extravagant parties: Whistler PRIDE and SKI Festival. Born as Gay Ski Week 28 years ago, it's a celebration of diversity and acceptance attended by men and women from over 26 nations. And a celebration it is!! Pool parties, a comedy night and the notorious SNOWBALL… it's a week packed full of fun that welcomes EVERYONE!
*Additional positions available: Event Hosts and Crew , Go-Go Dancers
Position: Office Support Team / Box Office Coordinators
Duties: Sell and distribute tickets to event attendees. Provide admin support to the event organizers, team leads, venues and box office at the event office/base of communications.
Qualifications:

Strong office coordination skills with at least 2 years related experience.
Solid verbal and written communication skills (English)
Very strong admin skills including MS Office & Excel.
Logistics expert (loves puzzles and juggling) and problem solver who takes initiative and can work independently.
Dates & Times: preference will be given to workers who can do all or most days
Schedule: Full Time (40+hrs/wk) Sunday, Jan 26 – Sat, Feb 2.
Sun, Jan 26 12 pm-8:30 pm

Mon, Jan 27 – Sat, Feb 2 8 am-4:30 pm

Mon, Jan 27 – Sat, Feb 2 10 am-6:30 pm

Schedule Notes:

These 14 shifts will be shared by 3 team members and scheduled based on availability (eg. 4-5 shifts each)
Must be available for at least 4 of the shifts listed above to work this assignment.
End times may vary.
Wages:
$19/hour plus 4% vacation pay for Event Crew
Please note that WPS Tiered wages do no apply for this event (it's non-profit) and we pay a minimum of 2 hours per confirmed shift for this event .
Perks Include: FREE event t-shift to keep upon completion of 3 shifts, meet lots of fun co-workers and a ticket to the wrap party
To Apply:
Ensure we have your resume and profile on file here: www.whistler-jobs.com/create-profile (you only have to do this once)
Email info@whistler-jobs.com to confirm your availability and contact details.
---
About the Whistler Pride and Ski Festival: www.whistlerpride.com
Whistler Pride and Ski Festival started out as a small weekend gathering of gay ski-enthusiasts in 1992. It has become one of the largest queer-focused ski weeks in the world. The biggest festival of it's kind in Canada, the festival welcomes guests from around the globe. Revellers enjoy an unparalleled mountain experience and world-class event programming hosted by a team of friendly ski & snowboard guides and festival staff. This is Canadian hospitality at it's finest.
Join us January 26 – February 2, 2020 for a for a week packed with winter-sport, culture, and entertainment. Each day begins with with daily guided ski/snowboarding groups followed by a free festival après skis at the host hotel, and nightly entertainment programming.
All Genders, Gender Expression, All Sexuality and Sexual Expressions welcomed!!