Full Time
Long Term
Seasonal
This position has been filled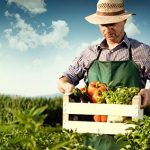 Website Whistler Personnel
Full time hours and accommodation available.
COVID-19 UPDATE: WE ARE STILL HIRING AND ACCEPTING APPLICATIONS FOR THIS POSITION.
A successful organic farm in Pemberton is looking for an experienced farmer to join their team as Farm Supervisor ASAP
They are currently in the process of preparing their fields and seedlings for planting and it is essential that this process continues to move forward this spring in a careful, safe and efficient manner. Their mission is to provide and deliver sustainable and lovingly grown produce to both commercial and residential customers.
This Farm Supervisor will supervise all farm operations and is suited for someone with experience in farm management. It offers housing on-property and full time hours immediately plus the opportunity for long term, year round leadership position.
About the Role:
Full time year round or seasonal position depending on the candidate's preference,
Successful 20 acre organic farm servicing top produce buyers and commercial clientele.
Lots of potential for growth.
Must be available to start as soon as possible.
Farmer's hours typically Mon-Friday 8am-4:30pm with possibly longer hours during planting and harvest,
Accommodation provided and includes use of a truck.
Competitive salary plus 10% share of yield.
Perfect Candidate:
Minimum 5 years full time production market farming experience required.
Deep passion and experience in any type of farming from seed to harvest is ideal.
Results oriented with strong leadership skills and a can-do attitude.
Handy with basic mechanics, carpentry and plumbing skills.
Good interpersonal, communication and leadership skills.
Knowledge of basic tools, farm machinery operation and maintenance.
Strong organizational skills and a sense of humor.
Certification or at least knowledge of organic farming rules and processes beneficial.
Strong direct marketing experience beneficial.
Ready to commit to the full farming cycle from seed to harvest.
Duties and Responsibilities Include:
Manage all farm operations, production and delivery of produce and be responsible for overall property management.
Ensure health and safety policies and procedures are strictly followed to ensure the safety of the workers and crops.
Directing all field operations: soil fertility and preparation, seed selection, germination, plant propagation, cultivation, irrigation, planting, transplanting, harvests, etc.
Hands on direction, supervision and motivation of farm hands and seasonal workers during harvest time.
Maximize production through robust crop succession plantings as well as pest and disease management.
Driving tractors and operating machinery,
Oversee the repair and maintenance of irrigation sprinkler system, farm buildings, machinery, equipment. and property.
Management of harvest, post harvest, storage and delivery of crops to supermarkets and wholesale.
Perform general farm duties alongside the rest of the team.
Maintaining daily journal entries, weekly work lists and crop /input /harvest records.
Provide updates to Farm Owner on crop progress and issues that may arise
Compliance with organic certification and Food Safety GAP Canada regulations.
To Apply: *Please contact ASAP if you are interested as we are moving quickly to fill this role!
We will review all applications and contact candidates who have been selected for further consideration or an interview. Due to time constraints, we may not be able to contact all applicants (but we will try!) If you would like an update on your application, you are welcome to contact us: talent@whistler-jobs.com or 604-905-4194 ext 2.