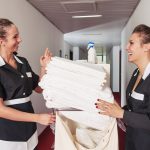 Website Embarc and Diamond Resorts
We help members create the best vacations of their lives.
Join the Housekeeping team at Embarc Resorts and say good bye to the seasonal roller coaster of either too many hours or too few!   Busy year round , this World Class Timeshare property has a vast network of beautifully crafted Vacation Homes and Resorts across Canada, the United States and Mexico.  The travel perks alone are worth jumping on board!
**TRIAL SHIFTS ARE ALSO AVAILABLE**  Work for a few days  and decide if this is the right team for you!  Shifts are all paid and it's a great way to "Try Before you Apply" – click here for more info.
About the Role:
Full-time, year-round with no seasonal layoffs or crazy busy seasons.
Positions available include houseperson and housekeeper.
A really great team culture and organization that enjoys staff events and celebrations.
Competitive starting wage starting at $19/hr that increases with time and experience.
Extended health & MSP coverage.
Excellent growth opportunity within the organization .
Travel perks including staff and family rates at World Class Diamond Resorts internationally. and thousands of other – plus enough time off to enjoy it.
Perfect Candidate:
No prior experience necessary – training will be provided.
Physically fit, positive attitude, personable and willing to work hard with a positive energy.
Have an eye for cleanliness and pride in a job well done.
Enthusiastic team member who contributes to a  positive, happy team environment.
Health and safety conscious and actively involved in maintaining a safe work place.
Awareness of what is going on throughout the hotel regarding housekeeping; strong attention to detail.
Ability to spend majority of the day walking, bending, pushing and lifting.
Responsibilities:
Clean, dust, sanitize and supply guest rooms including bathrooms according to standards
Make beds and vacuum floors in a guest room
Assist with carpet cleaning and deep cleaning of suites
Maintain stock of laundry and storage areas; organized and clean
Provide assistance to guest requests
Notice and report any damage or repairs needed in assigned areas
Removal of linens, garbage, recycling and compost
Offer any assistance possible to guests
Assist with public area cleanliness, washing windows, vacuuming etc.
Perform other tasks or projects as assigned
To Apply:
Ensure we have your resume and profile (you only have to do this once):  www.whistler-jobs.com/create-profile
Email talent@whistler-jobs.com to let us know you'd like to be considered for this role.
All applications will be forwarded to the hiring team at Embarc for consideration.