Full Time
Long Term
This position has been filled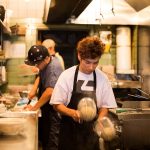 Website whistler_jobs Whistler Personnel Solutions
Amazing Japanese cuisine.
A full time position dishwashing at a very popular village restaurant with an amazing reputation: Harajuku! No experience necessary – Ideal for a hard-working individual who enjoys being part of a team and helping out wherever needed.
About the Role:
Work with a fun team and learn from the highly qualified staff.
Full-time 5 days a week – PM shifts.
Fun and very social team environment with plenty of opportunity to meet new people.
Competitive base wage reflective of experience plus an excellent share of tips which adds to your income.
Plus theirs a meal included for every shift!
The Perfect Candidate:
No experience necessary – just a great attitude.
Hard-working, team player and a consistent display of professionalism.
Effective decision making skills.
Good personal hygiene, detail oriented, and safety and sanitation orientated.
Displays the ability to recognize unsafe work practices.
Ability to endure abundant physical movements in carrying out job duties. and able to lift heavy loads (up to 50lbs);
Ability to take constructive feedback and leadership.
Ability to learn basic food handling and sanitation standards.
Food Safe and WHIMIS certification and training can be provided.
Responsibilities Include:
Cleaning, storage, and distribution of dishes, cooking equipment, and small wares.
Maintain a clean, neat and presentable work station and appearance, especially in view of guests.
Demonstrate proper use and knowledge of all equipment, chemicals, and procedures at all times.
Work quickly and efficiently.
Project a helpful, team-spirited attitude toward all co-workers.
Communicate between shifts and with supervisors and team mates.
HOW TO APPLY:
Ensure we have your resume and profile on file (you only have to do this once): whistler-jobs.com/create-profile
If you have already submitted your Resume to us, you can email placements@whistler-jobs.com about positions you wish to apply for. You do not need to submit your resume again.
PLEASE do not contact Harajuku directly. Candidates must apply through Whistler Personnel to be considered.
Qualified applications received for this role will immediately be forwarded to the hiring team at Harajuku. Those chosen for interviews will be contacted directly.
**IMPORTANT** By applying for this role, you are agreeing to allow Whistler Personnel Solutions to represent you to our client. Please do us and them the courtesy of replying to any emails or calls that you receive promptly and professionally even if you are no longer interested in the role.