Temporary
This position has been filled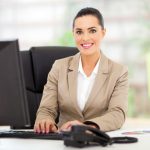 Website whistler_jobs Whistler Personnel
Excellent earnings & experience.
Earn extra funds and get some valuable administrative experience with a top Whistler employer as a temporary Administrator and Receptionist.  Assignment runs for 4 weeks starting Mon, July 29th and may be extended.   Schedule is weekdays for 24-40 hours per week.   Pays $20/hour after completion of initial 10 shifts.
WORK ASSIGNMENT DETAILS:  Administration & Reception – Tourism Whistler
DATES & TIMES:  3-4 days a week starting week of July 29th until August 23, 2019 with a possible extension.
TIMES:  Weekdays 8:30 to 5:00
SCHEDULE NOTES:

2 days training, dates to be confirmed based on availability.
Ideal candidate will be available 4 days/week, Tues – Fri.
Must be available at least 3 days/week  Wed – Fri.
DUTIES INCLUDE:   General Administration and Reception tasks , potentially assisting HR department with various tasks, operating multi-line switchboard.
SKILLS / QUALIFICATIONS REQUIRED:  Administrative and reception experience. Excellent customer service skills.  Flexible and comfortable in a changing work environment. Experience operating a switchboard very beneficial. Good judgment and resourceful in finding information. Highly confidential and professional.
ATTIRE:   Clean, professional appearance.
WAGES:  $18 – $20/hour plus vacation pay
Whistler Personnel uses a progressive pay system that awards pay increases based on number of Successful Shifts completed.  The more you work with us, the more you get paid per hour!

Tier 1 = $18/hr to start plus 4% vacation pay
Tier 2 = $19/hr after 5 Successful Shifts plus 4% vacation pay
Tier 3 = $20/hr after 10 Successful Shifts plus 4% vacation pay

Successful Shifts = be on time, work hard and make our clients happy.
All shifts in any position worked with WPS count towards a higher Tier for all future shifts.
TO APPLY:
Submit your resume and/or qualification details, see  APPLY FOR JOB link below (you only need to do this once)
Email talent@whistler-jobs.com with your desired shifts and start times
Ensure we can reach you (check your email and keep your phone on)
follow us on Facebook for updates:  www.facebook.com/whistlerpersonnelsolutions
---
WHY SIGNUP FOR TEMP WORK?
Perhaps you're looking for supplemental income? Filling in time? Have one day, one week or one month to spare? Between seasonal work? Enjoy variety and flexibility? We can connect you with Whistler's top employers and provide work that suits your skills, lifestyle and schedule.
Whistler Personnel has regular temp job opportunities for administrators, housekeepers, servers and bartenders.   It's a great way to pick up extra shifts during slower periods or days off.    Submit your details to us including the type of work you want, the times and days you are available and the pay you require and we'll notify you each time something suitable comes up.