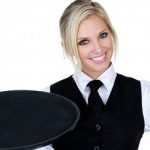 Website Whistler Personnel Solutions
Find a perfect match!
We are in need of junior servers to assist with a Breakfast Buffet at a hotel in the Upper Village.  If you are interested in gaining some serving experience, this is a great place to start.  Pay is $17-19/hr plus vacation pay.
JOB DETAILS:
TIMES:  

Opener / Closer:  6am  – 2pm  on Mon, Tues, Wed and Thurs.
Servers: 7am – 1pm (ish) x 3-5 shifts per week (flexible).
*end times can vary and shifts are expected to go 5-8 hours.
*preference will be given to workers who an commit to 3-5 shifts per week until mid April.

DATES:  several shifts available each week on an ongoing basis.
DUTIES:  Making waffles, doing dishes and clearing plates and stocking food items.
QUALIFICATIONS: Hard working, friendly and willing to help out wherever needed.
ATTIRE: black dress pants (no yoga pants), clean black closed non-slip shoes.
WAGES:   $18-$20/hr
Whistler Personnel uses a progressive pay system that awards pay increases based on number of Successful Shifts completed.  The more you work with us, in any role,  the more you get paid per hour!
Tier 1 = $18/hr to start plus 4% vacation pay
Tier 2 = $19/hr after 5 successful shifts plus 4% vacation pay
Tier 3 = $20/hr after 10 successful shifts plus 4% vacation pay
Successful Shifts = be on time, work hard and make our clients happy. These can be in any temp position with Whistler Personnel.
TO APPLY:
Submit your resume and/or qualification details, see  APPLY FOR JOB link below (you only need to do this once)
Email info@whistler-jobs.com with your desired shifts and start times
Ensure we can reach you (check your email and keep your phone on)
follow us on Facebook for updates:  www.facebook.com/whistlerpersonnelsolutions
---
WHY SIGNUP FOR TEMP WORK?
Perhaps you're looking for supplemental income? Filling in time? Have one day, one week or one month to spare? Between seasonal work? Enjoy variety and flexibility? We can connect you with Whistler's top employers and provide work that suits your skills, lifestyle and schedule.
Whistler Personnel has regular temp job opportunities for administrators, housekeepers, servers and bartenders.   It's a great way to pick up extra shifts during slower periods or days off.    Submit your details to us including the type of work you want, the times and days you are available and the pay you require and we'll notify you each time something suitable comes up.