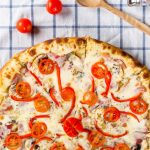 Website whistler_jobs Whistler Personnel Solutions
Find your perfect match!
SUMMARY:
A busy, successful and fast-paced Whistler restaurant is looking for a STORE MANAGER / MASTER PIZZA CHEF who will help to ensure they are always delivering the best pizza in town.   The ideal candidate will bring creative ideas plus be ready to take the initiative and dive right in.  Full-time, year-round position;  Starting salary is negotiable based on experience.
RESPONSIBILITIES:
Quality controls
Cost and inventory controls
Creation of new winning new pizza recipes and menu items
Hands on day-to-day operation of a very fast-paced kitchen and its staff
Working alongside the management team to continue to grow and improve the business
THE PERFECT CANDIDATE:
An aspiring  "master pizzaioli" who loves pizza and the art of pizza creation
Minimum of 2 years of culinary training and experience
Customer focused and outgoing
Mature, reliable and calm under pressure
Attention to detail and product quality
Natural team leader who knows how to have fun while getting the job done
Takes initiative and works independently
Active and able to work on your feet for long periods of time