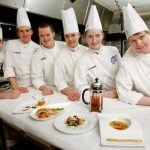 Website whistler_jobs Whistler Personnel Solutions
Find a perfect match!
We have an opening at a very popular local pub with over $3.5 million in annual food sales, hotel banquet facilities and food outlet at a 5 star village hotel. The Executive Chef is responsible for the successful daily operations of the entire culinary department including staff development, menu development, financial performance and oversight of culinary training programs.
About the Role:
Full-time, year round key Leadership Career Position
Flexible schedule – must be able to work weekends/evenings as required
Competitive salary based on experience in the range of $65,000 +
Benefits / perks include: Achievable KPI bonus package, monthly spending account, staff discounts, RRSP contributions, parking, housing, and other perks!
The Perfect Candidate:
Understands all of the moving parts to a successful kitchen and how the team functions well.
Has a passion for cooking and people development,
Thrives under pressure.
Strong communicator and team leader.
Experience in a high-volume kitchen a must.
Duties / Responsibilities include:
Supervise and coach a culinary team of employees and sous chefs in daily duties and provides regular feedback and training;
Work directly on line alongside the team when required.
Play an active role with the Sous Chefs preparing schedules for all food services.
Tracks and manages kitchen labour on a daily basis for comparison to budget.
Participate in weekly, monthly and quarterly Operations meetings.
Full-cycle recruitment of kitchen personnel.
Maintain a high standard of personal hygiene.
Consult with the HR department on employment and other employee relation matters such as Performance Management, Progressive Discipline etc.
Evaluate the success of our food and beverage program and proactively take action to capitalize on opportunities for growth in volume or quality.
Work closely with the sales & events function to ensure successful catered events held at the pub and hotel.
Oversee the food production and kitchen operation for catered events for 2500+ (combined) square feet of Banquet facilities.
Responsible for the creation of all menus, including Banquet Menus, considering marketing conditions and availability of various products.
Determine all food specifications and coordinate all ordering of food and kitchen supplies. Ensure ordering & inventory are on time and within budget.
Take all necessary actions to produce food cost and labour cost results that meet or exceed budgeted expectations.
Regularly monitor and inspect kitchen equipment, report any problems or inconsistencies to the General Manager and make recommendations for repair or procurement.
Other duties as assigned by the General Manager.
To Apply:
Please take about 7 minutes to highlight your job-specific strengths and experience here: http://www.whistler-jobs.com/SOQ/chef/
Ensure we have your resume and profile on file here (you only have to do this once): http://www.whistler-jobs.com/apply-for-work/
We will review all applications and contact candidates who have been selected for further consideration or an interview. Due to time constraints, we may be able to contact all applicants.  If you would like an update on your application, please email us at talent@whistler-jobs.com