Temporary
This position has been filled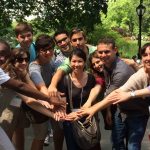 Website whistler_jobs Whistler Personnel Solutions
Find a perfect match!
Whistler Personnel is looking for professional outgoing hosts for a fun corporate team building events for a groups of Executives.   Enjoy a fun filled day and earn some extra pocket money!
Job Details:
Role:  Event Host for Whistler's Amazing Chase
Dates & Times:  Thursday, Sept14 from 3pm – 8pm
Location:   Start at hotel locations in Whistler Village and travel with guests outdoor challenges and adventures.
Duties:  You will host a station at a fun team building event (it's a fun one!).  Your role will be assist with the set up and roll-out of a fun corporate event, cheer participants on, get them stoked to be there, then at the end of the day help wrap it up.
Qualifications:  Must be well groomed, fun, energetic, outgoing, good communication skills, public relations abilities. Training will be provided
Attire:  Black t-shirt or dress shirt. Black slacks or knee-length shorts, no leggings or yoga pants. Black closed toe shoes / black running shoes. Please note that a t-shirt will NOT be provided so be sure to follow dress code. You will be outside for the duration of the event so dress appropriately.
Other Details: Please bring your own snacks and water.
Pay:  $17.00 per hour plus 4% vacation pay
If you are available for these shifts, please let us know ASAP:
email info@whistler-jobs.com and confirm your availability
ensure your resume and application have been submitted on www.whistler-jobs.com/apply-for-work (you only need to do this once)
ensure we can reach you  (keep your phone on!)
follow us on Facebook for updates: www.facebook.com/whistlerpersonnelsolutions
---
WHY SIGNUP FOR TEMP WORK?
Perhaps you're looking for supplemental income? Filling in time? Have one day, one week or one month to spare? Between seasonal work? Enjoy variety and flexibility? We can connect you with Whistler's top employers and provide work that suits your skills, lifestyle and schedule.
Whistler Personnel has regular temp job opportunities for administrators, housekeepers, servers and bartenders.   It's a great way to pick up extra shifts during slower periods or days off.    Submit your details to us including the type of work you want, the times and days you are available and the pay you require and we'll notify you each time something suitable comes up.