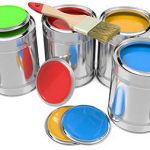 Website whistler_jobs Whistler Personnel
Find a perfect match!
A wonderful family-run retail painting business is hiring a Customer Service Rep who they will train to become a  Paint Tinting Specialist.  This is a rare career opportunity for someone with a keen eye for colours who wants to learn the trade from a Master of Paint Mixology with over 20 years of experience.   Excellent wage, benefits and a 3-day weekend make this a very attractive position for a customer service professional looking for meaningful long-term employment.
About the Role:
Full-time, year-round, long term position with a stable, well-respected, locally-owned and operated business with over 25 years in Whistler.
Easy-going, light-hearted family environment with a long-list of loyal customers.
Regular schedule of 4 x 10 hour shifts per week (aka: the 3-day weekend!)
Wage range starting at $20/hour for someone with prior paint tinting experience or $17/hour for an customer service rep in training.
Extended health benefits, 30% product discounts and the Spirit Pass is an option.
The Perfect Candidate:
Works well as part of the team in a busy and friendly work environment.
2-3 years of prior retail and customer service experience.
Fun, friendly and easy going. Gets along with everyone and must love dogs.
Great attention to detail and eagerness to learn. Very organized and efficient.
Ready to commit to learning a complex trade that can take 1 year or longer to master.
Previous experience in a paint store is an asset, but not required. Training will be provided.
Physically fit, comfortable with heights and able to repeatedly lift 1-5 gallon pails of paint which weigh up to 60lbs.
Has a keen eye that can distinguish the difference between colours in order to tint and colour match paint.
Has a valid Class 5 Driver's License with clean driving record.
Duties / Responsibilities include:
Key holder, providing excellent service to customers and contractors in a retail paint store.
Tinting paint, custom colour matching *training can be provided.
Receiving paint and furniture orders; unpacking and putting orders away .
Placing paint and supply orders when required.
Providing support/advice in-person and over the phone to customers and contractors on products and their applications.
Maintaining customer records of paint colours on file.
Operating POS system and handling cash register.