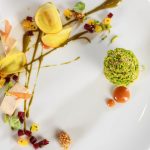 Website whistler_jobs Whistler Personnel Solutions
Find a perfect match!
Are you ready to take your culinary career to the next level?  How does studying under award-winning Executive Chef Melissa Craig along side on the best in the biz at the 5 star renowned Bearfoot Bistro restaurant sound?   If a culinary career is your passion then there's really no better place  for you perfect your craft.    Also offers excellent benefits and perks, a fantastic team plus a schedule that still allows plenty of time to pursue your other passions.
**IMPORTANT:  Please do not contact the Bearfoot directly about this position – all candidates must first apply via Whistler Personnel Solutions to be considered.
About the Role
Full time, 5 days a week.  Primarily afternoon and evening shifts.
Full-service fine dining restaurant.
Work with a fun team and learn from a highly qualified and award winning Head Chef known throughout Canada.
Excellent opportunities for growth, training, and advancement.
Starting wage at $18/hr plus attractive benefits incl, staff meals, team parties and events and access to a spirit ski pass.
BONUS: Travel perks and hotel discounts.
Housing may be available *some restrictions apply.
The Perfect Candidate:
3 years+ experience as a cook or chef in a professional kitchen with a passion for cooking.
Hard-working, team player eager to learn and help where needed.
Food Safe and WHMIS certification preferred.
Able to follow all guidelines and recipes for timely food service to guests.
Good knowledge of English (written, spoken and reading)
Proficient knife skills and understanding of meat and fish cookery.
Adequate knowledge of hygiene, sanitation, and proper food handling skills.
Able to work with others and provide guidance by example.
Must have basic supervisory or lead-hand skills.
Maintain a calm and cool demeanor in stressful working conditions.
Work efficiently in a non- supervised environment.
 Responsibilities Include:
As a Chef de Partie you would be responsible for preparing and checking the mise en place as well as setting up the station before the service in regards standards and procedures.
Helping to prepare food items; closely following recipes and standards as directed for a fine dining restaurant
Oversee work done by other junior members of the kitchen staff under your direction.
Maintain and enforce the highest standards of quality, service, and appearance of food items that leave the kitchen (including staff meals).
Maintain consistency of appearance and quality of all menu items.
Work in a timely manner as much as is humanly possible and be aware of the importance of every food item served to every client.
Work with a helpful, team-spirited attitude towards service staff, dishwashers, and other co-workers.
Communicate between shifts and with supervisors to ensure adequate product levels and consistent food quality.
Ensure proper hygiene, sanitation, and proper food handling standards are met.
Be aware of proper stock rotation and help with storage of incoming product.
Work with stewarding, kitchen and front-end staff to maintain high standards of cleanliness and proper storage of items and proper closedown procedures.
To Apply:
Ensure we have your resume and profile on file here (you only have to do this once): whistler-jobs.com/create-profile
Please take a few minutes to highlight your job-specific qualifications here (consider it a prelude to an interview:):  www.whistler-jobs.com/SOQ/chef/ 
**IMPORTANT:  Please do not contact the Bearfoot directly about this position – all candidates must first apply via Whistler Personnel Solutions to be considered.
We will review all applications and contact candidates who have been selected for further consideration or an interview.  Due to time constraints, we may not be able to contact all applicants (but we will try!)  If you would like an update after a week or two has past, you are welcome to email us at talent@whistler-jobs.com