Full Time
Long Term
Part Time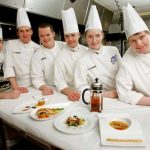 Website whistler_jobs Whistler Personnel Solutions
Find a perfect match!
One of the Whistler's high-end full-service hotels has a position available for a certified chef or line cook year-round.  A part-time and a full-time position is available with shifts starting at 3pm.   Ride all morning, work in the evenings and enjoy the Whistler lifestyle.
About the role:
Part-time or full-time, 3-5 days a week
Work with a fun team and learn from a highly qualified and acclaimed Head Chef.
Newly renovated 5 star fine dining restaurant, busy bistro and lounge.
Afternoon shifts starting at 3pm allow for maximum time to enjoy the hill.
Wage range staring in the range of $20-25/hour based on experience and certifications plus tip pool, long-term benefits, end of season bonus.
Duties / Responsibilities include:
Cook and prep for a casual bistro and fine dining restaurant in a high-end hotel.
Create new menu items for daily and nightly specials
Maintain a clean, neat and presentable appearance, especially in view of guests
Proper use and knowledge of all foodstuffs, equipment, chemicals, and procedures
Maintain high personal standards; Wear proper attire and work in a safe, clean, efficient organized manner
To assume responsibility of the efficient and timely operation of the kitchen and banquet lines in the absence of the Chef, chef de cuisine or the Sous chef
Oversee work done by other junior members of the kitchen staff under your direction while on shift
Maintain and enforce the highest standards of quality, service, and appearance of food items that leave the kitchen (including staff meals)
Maintain consistency of appearance and quality of all menu items
Work in a timely manner as much as is humanly possible and be cognizant of the importance of every food item served to every client
Maintain peace and harmony in the kitchen with regard to staff interaction
Work with a helpful, team-spirited attitude towards service staff, dishwashers and other co-workers
Communicate between shifts and with supervisors to ensure adequate product levels and consistent food quality
Be aware of proper rotation of all food stuffs and help with storage of incoming product
Work with stewarding, kitchen and front-end staff to maintain high standards of cleanliness and proper storage of items and proper closedown procedures
The Perfect Candidate:
2-3 years' experience plus working toward or in a full apprenticeship. Journeyman papers an asset.
Adequate knowledge of hygiene, sanitation and proper food handling skills.
Able to work with others and provide guidance by example
Must have basic supervisory or lead-hand skills
Maintain a calm and cool demeanor in stressful working conditions
Work efficiently in a non- supervised environment
Work within the framework of the Events, Banquet/Wedding Buffets and Restaurant needs and demands